And my off-screen life
All graphics in this post are provided by Forest- Stay Focused, Be Present 
Did you know that there are about 2.5 million(!!) phone apps available in the play store alone? With that many apps available, it's made nearly impossible to find the true gems. That's exactly why I've decided to share one of the gems I did find!
It's been the savior of my productivity. And not just that. It comes in handy when I need to work, when I want to socialize or when I just want to unwind. With a super simple, no bullshit concept and design it does exactly what it needs to do: it helps you to stay focused.
So, what's this app I'm talking about? The app is called 'Forest' (so fitting as trees are big healers for the human mind!). Their slogan is 'Stay focused, be present' & I love that they make that true. To me, the core of why I love this app is because it doesn't (claim to) bring you anything you wouldn't be able to find anywhere else. Instead, it enhances the important things in your life, that are already there.
In this post, I'll go in-depth about when this app can be useful, how it helps, about the trees in the app & where to get it. This is also the point in my writing where I got distracted by my phone again and again and again (oops!) and decided to take my own advice and put the forest app on! My tree is growing, so let's get into it.
Why & when to use the forest app
Right now, the average American checks his or her phone every 10 minutes. That counts up to 96 times a day! According to research by RescueTime, the average phone usage is 3 hours and 15 minutes a day. If that isn't shocking you; that's 22 hours a week and 48 days a year. Yep, that one and a half months of being full time on your phone every year. And it's only estimated to increase. Reasons enough to do something about it!
There are countless moments in your day when you just don't want to be distracted by your phone. And of course, you can put it on silent mode, but let's be honest; the biggest distraction comes from ourselves. I know that I for one pick up my phone super easy, and I'll be scrolling through Instagram before I even realize it. The forest app comes in as a middle man and makes mindless phone usage a step further away (more on how it exactly works later!).
The three main moments to use the app they name themselves are while working, studying, and when with friends. Which are presumably the main moments the app is used, too. But there are more!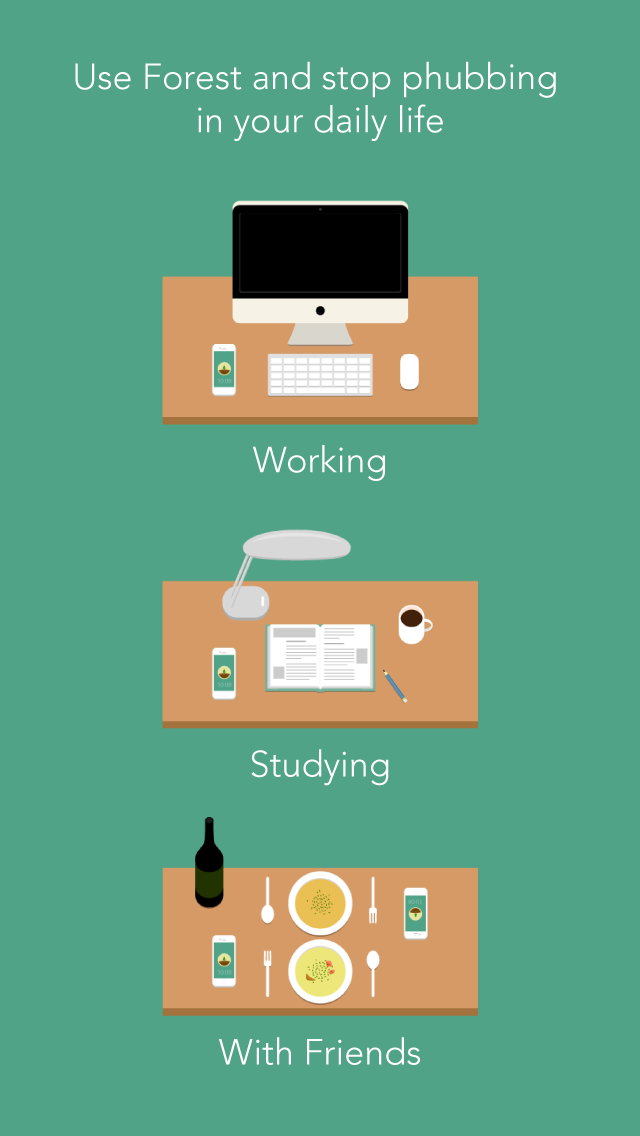 For instance;
while driving (NEVER use your phone while driving, kids!)
being creative
Reading
enjoying the sun
Cleaning
taking a tech break in the middle of the day
Journaling
at a party
during a walk
when in deep conversation
to not kill your daydreams, or
when getting ready for the day
All those situations will be better without the intervenience of a phone. All those situations often get disturbed by phone usage.
And then there's the main part, about increasing productivity. The most useful moment to use the app is for sure when you need to get things done. But why does it help so much? Are those two minutes of phone really that bad? Short answer: yes. Long answer: see this super useful infographic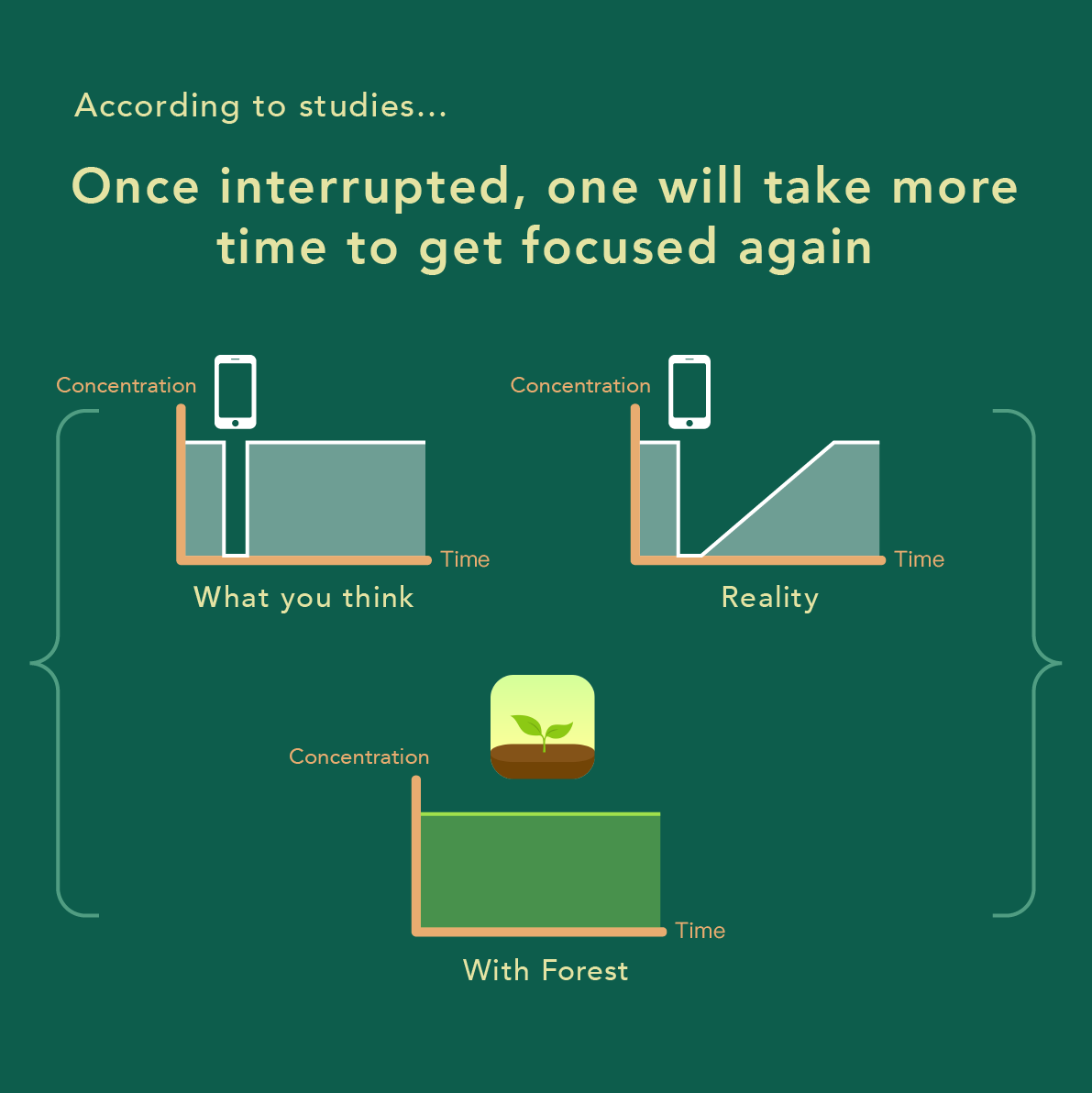 Whether you're doing it for your productivity or to improve the time you spend off-screen, it's sure worth to check the forest app out!
How does the forest app work?
After hearing all those benefits and shocking numbers about phone usage, you're probably wondering: how does the app actually work? As I said at the beginning of the post, one of the key factors is simplicity. Don't expect anything too fancy, just a straight-to-the-point app.
In easy words, what happens is this: you pick the time you want to spend off your phone, choose a tree you want to plant in your virtual forest, and stay off your phone. If you succeed, the tree will then be added to your forest. If you fail, the tree will wither and a dead tree will be added to the forest. Easy peasy, right!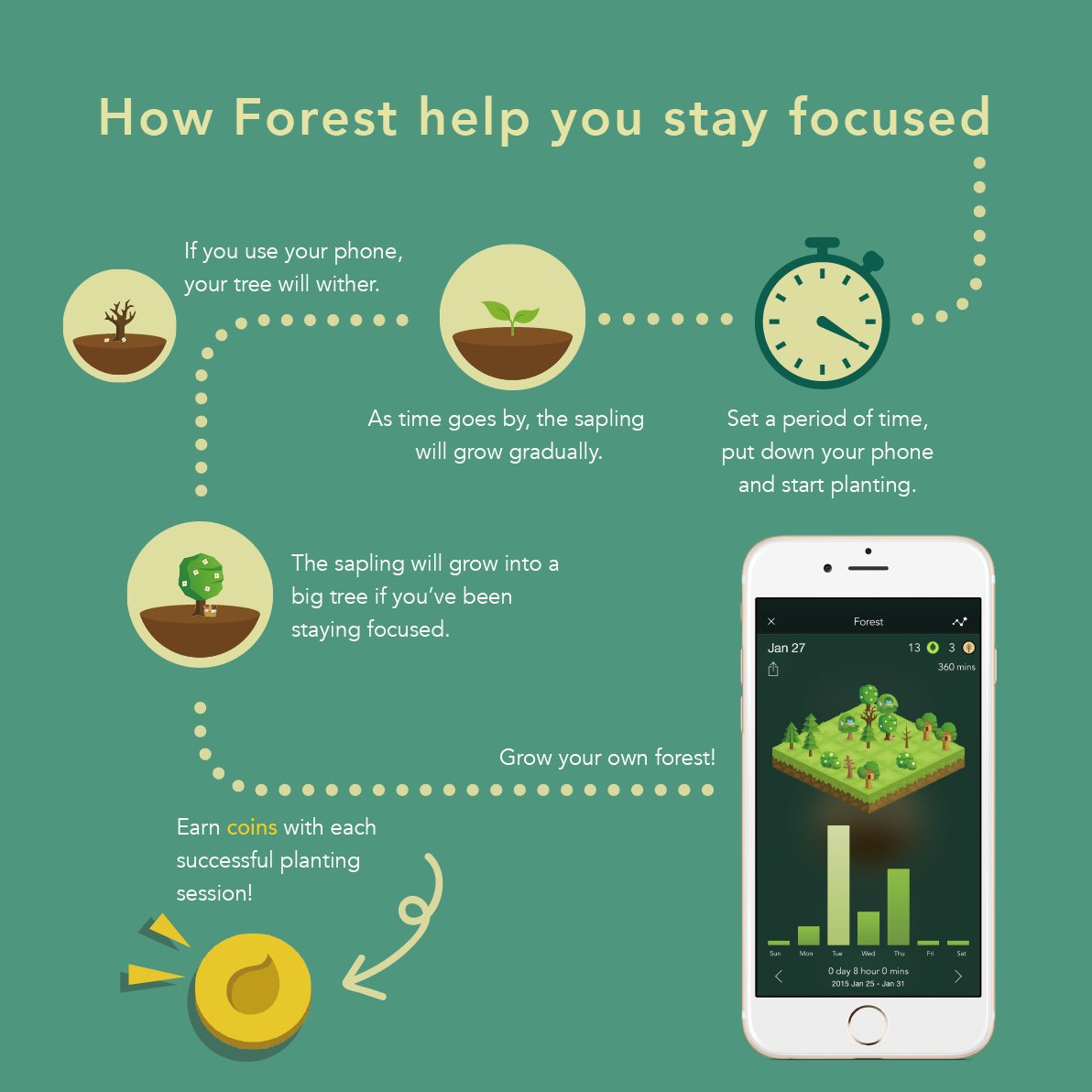 What it essentially does, is it gives you a moment longer to consider if you really want to use your phone. Obviously, there are no real consequents, so if you really need your phone you can still use it. But so many times I find myself scrolling through Instagram instead of working on what I should be working on, not because I made the conscious choice to do so, but because I was already scrolling away before I truly noticed.
This is what this app will prevent. Those mindless, useless moments of phone usage. You are reminded that you choose not to be on your phone, and often that is enough to stop the distraction and get back to work.
Besides viewing your own planted forest, you also have access to some statistics. This includes how much time you stayed focused over a day, week, month or year; what you were doing during your focus time (with the help of tags); what days and what time of day you are most focused and, not unimportant, which trees you plant the most!
And what about the trees?
Virtual trees are all cute & nice, but what about real trees? Right now, we are losing 50 soccer fields a minute of forests, because our food systems take such a heavy toll on our ecosystem. Most of the deforestation is done by small farmers from developing countries in Africa, Latin-America, and South East Asia. These farmers are not aware that what they are doing is harming their trees, soil, and biodiversity. They are doing what needs to be done to get food on the table.
This is where Trees For The Future comes in. Through a 4-year period, they teach farmers how to take care of their land, how to make sure it can keep giving, and how to build enough diversity of food for a healthy diet. After 4 years, the farmers are no longer reliant on food help. They can sustain themselves, their children, and the environment!
But what has all of that to do with the app forest? When you earn coins in the app, you can choose to either buy a new virtual plant or to plant a real plant through Trees For The Future. By now they've planted almost 850,000 trees through the app! Through this app, you give more: more attention in your off-screen life and more to the world & the farmers.
To learn more about Trees For The Future you can check out this less-than-20-minutes mini docu:
And you can donate directly to the cause, too!
Where to get it
The forest app is available in both the apple store and the play store. Besides that, there is now also a Google Chrome extension available! You can add websites to your 'blacklist' and from there on the extension will work the same way as the phone app. You can sync your devices too, so no plant will go to waste!

Stay focused & be present, with the forest app!
Do you have a holy grail app, and have you tried the forest app? Let me know in the comments!